[This Backstage Character Pass contains some very minor SPOILERS for The Deathsniffer's Assistant! Read at your own risk.]
No character deviated more from their original plan than Rachel Albany.
I've written about how The Deathsniffer's Assistant originally started as a NaNoWriMo side project without an outline that I later realized had some potential. What I haven't talked about is how much of the book changed between those mile markers. While I picked it back up and continued writing more or less where I left off, the very fabric and intent of the novel had changed.
The original novel didn't have the Floating Castle.
Michael and Julia Buckley had been killed in a carriage accident. There was no larger plot, no political landscape, no depression, and no conspiracy. It was just the val Daren murder.
While I left the novel fallow, those ideas began to sprout and bloom. The murders themselves weren't enough to hold up the book. I didn't want to just tell murder mysteries in a fantasy setting. I wanted something bigger. Parents dying in a silly accident didn't provide my narrator enough baggage or motivation, and with no overarching mystery for the main characters to solve, the series lacked a mission statement.
This is when the Floating Castle was born.
The details of that story are for another time. But the birth of the Floating Castle was also the birth of the Miss Albany who reached the presses.
I immediately knew that I needed a character representing the reformist point of view. An important part of making a conflict seem human is personifying it. I needed someone the audience respected and trusted to voice the views of the reformist camp – and more importantly, to trust the reformist leader, Dr. Livingstone. A major plot point hinged on the audience believing the doctor was a good man, and a character who could grandfather him into the story was necessary.
Even from the first draft, the Miss Albany character existed. But she was different, a pinched older woman, severe and intense with a completely different backstory. I didn't want to create a new character, so I decided to have Miss Albany perform double duty.
And then I thought – well, since we're already tinkering, why not triple duty?
See, I knew from moment one that I wanted Chris and Olivia to have an extremely intimate relationship that readers would see flourish over time. I also knew that I wanted absolutely no romantic connection between them. Their relationship would have to be completely platonic. The age difference, power difference, and fundamental personality conflicts between them was a part of that, but it was more. I wanted to explore how platonic relationships can be as meaningful and as important as romantic ones. I wanted to show a sexually compatible man and woman forming a deep connection without sex being an aspect of it. And, most importantly, I wanted Olivia to never become subservient – in any way – to Chris or Chris's development.
I had to remove all risk of subtext, make it obvious to the reader that there was no romantic attraction between the Deathsniffer and her assistant. And the easiest way to do that is to show how they act around someone they are attracted to.
So: Rachel.
Three separate character ideas became one complete character: a governess for Rosemary, a romantic interest for Christopher, and a reformist sympathizer for the audience. She had to be someone Rosemary would initially resent, later respect, and eventually love. She had to be someone Chris would want, but also someone who would challenge his preconceptions. And she had to be implicitly trustworthy: forthright, stubborn and strong-willed.
Rachel became one of the most vital characters to the series as a result of this compound mission statement. She also became the most challenging to write. A single character pulling triple duty is economical writing, but it's also tough. Rachel had to be playing all three roles in equal measure while still pursuing her own personal agenda. Finding the balance between her three roles in the story and her agency was tough, and no character has undergone more revisions in either book than Rachel.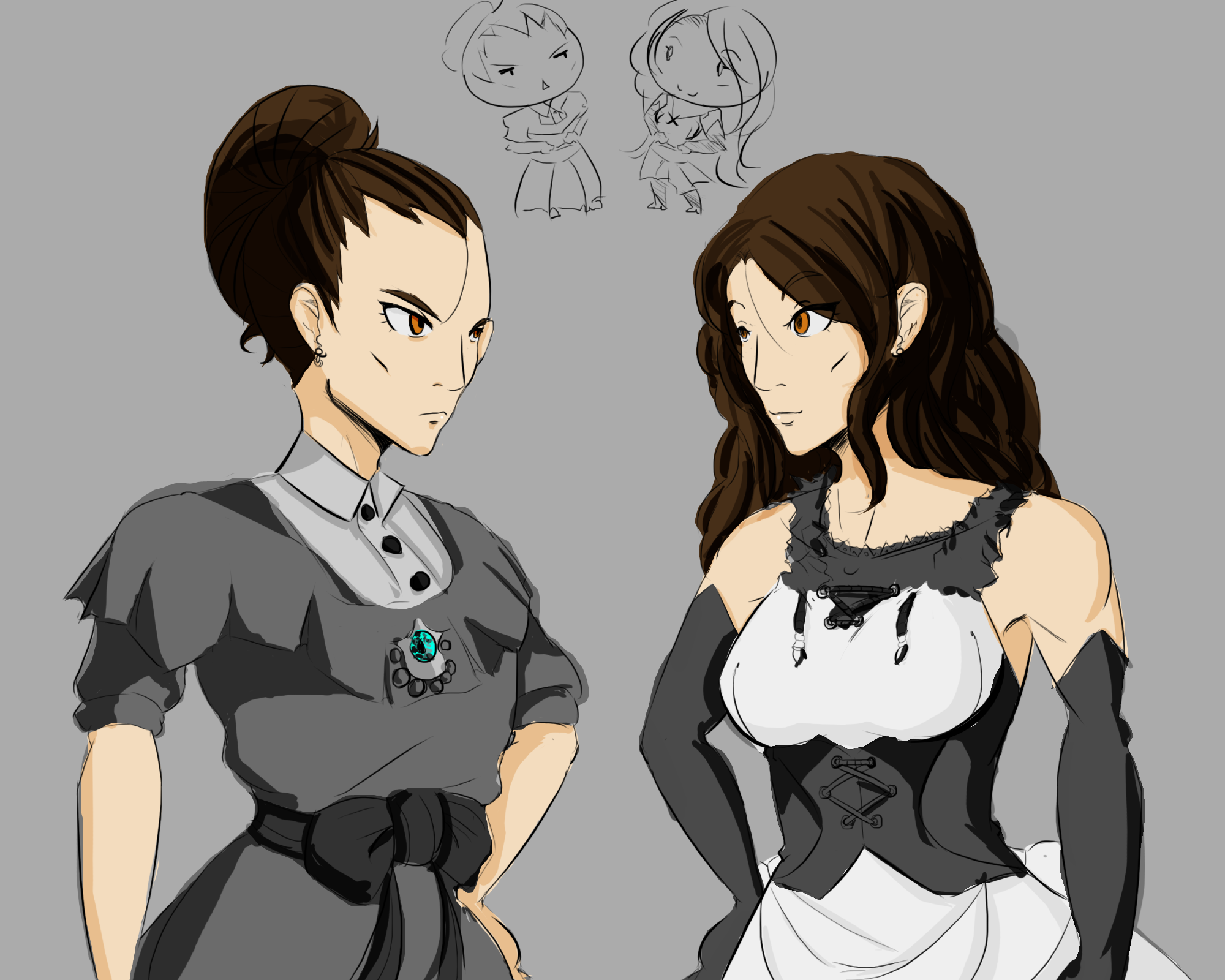 The most important piece of advice I always want to give new writers is that they shouldn't be so afraid of a first draft. I see so many writers struggle with fear of starting. And I want to tell them all that first draft is so mutable. (I talk about this a lot in my Getting Out of the Labyrinth series, especially Writing Part 1 and Writing Part 2.) Your book is going to change so much! And that's not only fine, it's awesome. Nothing is more inspiring than the knowledge that your work can still grow and adapt as you write. No word you write is written in stone. And I think Rachel is a great example of how much change can happen and how positive it can be!
I love all of my characters, and appreciation for any of them makes my day. But it's curious. If I had to pick a favourite, it wouldn't be Rachel. And yet, when someone tells me that she's their favourite, nothing else makes me happier. Rachel is such a challenging character. Writing her is never effortless. I constantly have to work on juggling so many things while she's onscreen. So when I hear that she really worked for someone, it's crazy rewarding!
In The Timeseer's Gambit, you'll get to see Rachel more relaxed and comfortable in her position as Rosemary's nanny. She and Chris have gotten to know one another better and their dynamic has subtly changed. You're also going to learn quite a bit more about her infamous brother, the mysterious Garrett Albany you heard so much about in the first book. Look forward to it!
Have any comments, questions, or just something to say about Miss Rachel Albany? Let me know! I love hearing from my fans.
Other Backstage Character Passes:
Chris
Olivia
Maris
Rosemary